Written in Abuja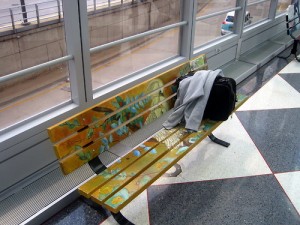 Scattered guests, wayfarers from everywhere, travelers,
Gaping kids with idle feet around an open park. Idlers.
Noise, silence, antsy sights from dozen sleepless eyes,
We pass quick glances around the room, a shared sacrifice
in the early dawn of aspirations. From wary skies of town,
news hounds us in our states of mental undress. We frown.
We smile, laugh. We murmur in groups of vain distress,
Or point at a random object of attention: a funny dress.
The day breaks in bits around our ears, even louder voices
calling passengers into new routes into the world. Choices.
The past dances on the stage of memory, shuffling its feet
like the waking passengers traipsing towards empty seats.
Like before, each new step is a beginning into the cold wild,
with the certainty of the unsure steps of a walking child.