Her reputation had preceded her, so whenever I drove past the junction from where one can see the tall white building with Nike Art Centre written boldly on its roof as if trying to attract the attention of a flying helicopter, I promised myself to one day drop by to see what the building housed. From afar, it promised treasures. As opposed to other buildings in the area, it was painted white, and designed with art reliefs from top to bottom. Remarkably, the white reliefs made it an impossible structure to ignore even from a distance away. A re-routed path from work found me in front of the gallery last week, and I walked in.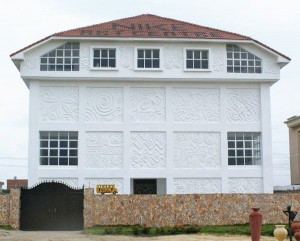 At close contact from outside, the white relief on its walls portrayed a relaxed artistic atmosphere. In an otherwise bustling part of town off the Lekki-Ajah expressway, a conspicuous art edifice was always going to be a sight for sore eyes. Outside the compound, there was a white bus on which was the artist herself, along with a few other women from different countries, all dressed in native Yoruba tie-and-die. For a sixty-one year old woman, the cheerful youngish face she put on the bus offered a gentle reminder of the rejuvenating power of creativity, and promised a kind, friendly encounter. I took a few pictures of the bus and the general periphery of the premises, silently convinced that at any moment, someone was going to show up and challenge me for taking pictures unannounced outside a famous gallery. No one did, and I entered the compound…
Read more about my encounter with famous artist Nike Davies-Okundaye in today's edition of the Guardian Newspaper. A copy of the article is published online.
Random Posts
Meeting Nike Davies-Okundaye

,
Related Posts